Adaptive Sports Program- Archery

Archery is a sport accessible to just about everyone with a disability, including the visually impaired. While it is not only fun to challenge yourself to hitting the target, it's also physically beneficial, increasing body strength, focus, flexibility, and attention skills.

Minnehaha Archers, Inc. joined with the Sioux Falls VA and Sanford Rehabilitation in 2014 to start an archery adaptive sports program in Sioux Falls.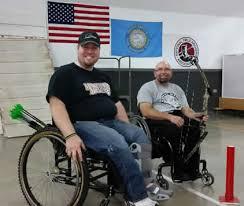 Minnehaha Archers club member and USA Archery Level II coach, Bryce Neu (left), having fun instructing at a Adaptive Archery session.
Minnehaha Archers, Inc. is proud to be hosting a continuing program for:
Along with Sioux Falls VA and Sanford employees, volunteers from Minnehaha Archers, Inc. will be part of these great events. If you are interested in volunteering, please contact:
Brad "Jud" (Judstra): bjudstra@gmail.com

If you are interested in participating in our adaptive sports progr
a
m, please talk to your VA primary care provider. All Veterans must have medical clearance to participate. For additional information about local adaptive sports opportunities, please contact the Sioux Falls VA Recreation Therapy Department


* 605-373-4143 * 800-316-8387 Ext. 4143

---
Other Information - Links
Adaptive Archery Shooting on: