Sioux Falls, South Dakota
Minnehaha Archers, Inc is a non-profit organization. Our Club is 100% volunteer run and dedicated to
the promotion, expansion, enjoyment and education of all forms of archery in the greater Sioux Empire Area.
The Club was established in 1951 and is one of the oldest and most respected archery organizations in the region.
Our approach to the shooting of the bow and arrow applies to many forms of archery,
whether that may be simply for personal enjoyment and satisfaction,
competition, or for the challenge of bow hunting.
INDOOR RANGE IS OPEN 24/7
 JANUARY

- TIM AUDUS


 FEBRUARY

- Jody McIntyre


 MARCH

- Dennis Husman


 APRIL

- DONNY McFARLAND


 MAY

- Ryan Hansen (Outdoor Range)


 JUNE

- Katie Anderus

(Outdoor Range)

 JULY

- BRANSON TOLLIVER

(Outdoor Range)

 AUGUST

- Eric Gaspar

(Outdoor Range)

 SEPTEMBER

- Jack Moulton

(Outdoor Range)

 OCTOBER

- Will Frantz

(Outdoor Range)

 NOVEMBER

- Kim Audus


 DECEMBER

- DOUG ELLIS

Please take a few min and update your member information.
South Dakota State Archery Association
and
​South Dakota USA State Indoor Tournament
​March 31 - April 2
​
​

NFAA Easton Yankton Archery Center
​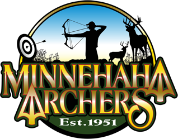 click her to sign up for 2023 Potluck Banquet
Excellent food, door prizes, recognition, tournament awards, JOAD, 4H, Spot league, Bow Hunter league. Hope to see you all there!
We will be doing a Potluck this year
Dinner menu:

Club will provide Pork and Rolls/buns
Last Name begins with A thru M - Please bring a Side Dish or Salad
Last Name Begins with N thru Z - Please Bring a Dessert
If you would like to bring one of each feel free the more food the better!
free soda pop from our vending machine and water, you can bring your own other/adult beverage.

Cost: Free Will Donation


2022 RANGE OFFICER SCHEDULE

JANUARY
TIM AUDUS
 

FEBUARY


Jody McIntyre
 

MARCH


Dennis Husman
 

APRIL


DONNY MCFARLAND
 

MAY


Ryan Hansen
 

JUNE


Katie Anderus
 

JULY


B. TOLLIVER

 AUGUST


Eric Gaspar
 

SEPTEMBER


Jack Moulton
 

OCTOBER


Will Frantz
 

NOVEMBER


Kim Audus

 

DECEMBER




DOUG ELLIS
Minnehaha Archers, Inc.
Indoor Range facility:
5108 N. Harvestore Rd.
Sioux Falls, SD 57107
(605) 336-1979

Minnehaha Archers,
Inc. P.O. Box 617
Sioux Falls, SD 57101

Next to the Great Bear Recreational Area - at the entrance, take the first left into the gravel driveway